Why Real Estate is Less Volatile than the Stock Market
This article is part of our larger real estate investing guide available here.
Although many investors place a heavy emphasis on the stock market, real estate has been the most favored long-term investment of Americans for eight consecutive years, according to a Gallup poll. In fact, there's more money invested in real estate than in equities in the stock market in the US. As of 2018, US real estate was estimated to be worth $49.3 trillion ($33.3 trillion in residential and $16 trillion in commercial), while total equity capitalization in the US stock market was $30.4 trillion. Although this doesn't take debt investments into account, it's clear that even though real estate gets less attention from a typical investor on a daily basis, it's consistently a popular investment choice.
Of course, the stock market offers several advantages, including easy access and high liquidity. Conversely, real estate – particularly private market real estate – offers benefits not found in the stock market. These include lower volatility than the stock market and less correlation with public market investment performance in general.
These differences often make real estate investments complementary to investment portfolios allocated largely to stocks and bonds, providing meaningful diversification among other benefits.
Let's first look at the volatility of the stock market to understand one of the major differences between the markets in which they're traded.
Volatility and Correlation Within the Stock Market
Volatility and correlation exist in every investment, but the amounts vary by investment class, type, and by market in particular. These two measurements are key in examining the distinctions between public and private markets, because their differences illustrate the advantages and disadvantages of each market type.
Correlation is the measurement of the degree to which investment performances are related to one another. Investments can have positive, negative, or no correlation with one another. In general, the more investments you hold with little or no correlation, the more diversified your portfolio is.
Volatility is diversifiable unsystematic risk, which means that it can be reduced through, as you may have guessed, diversification. This diversification can be achieved by choosing investments with little or no correlation with one another. When volatility is properly diversified, a portfolio has a lower risk of loss in the event of poor performance from a given company, industry, sector, region, market, or otherwise.
Volatility and Correlation in Practice
Assets within the US stock market have become increasingly correlated with one another as ownership has grown more concentrated and the number of publicly traded companies has fallen. With the rise of index investing, index funds have gained control over a significant portion of the US stock market. In 2010, 6.8% of the US stock market was owned by index funds, and by 2019, it had jumped to 13.6%. This consolidation of management among the top few investment management firms means that trade decisions for broad swaths of the market are held in a few hands, and any of their buying and selling decisions are likely to be more correlated.
Additionally, the number of publicly traded companies peaked in 1996 at 8,090 and has since declined nearly 50% to 4,397 in 2018.
In this environment, it's not surprising that correlation among some publicly traded asset classes has increased over the last decade.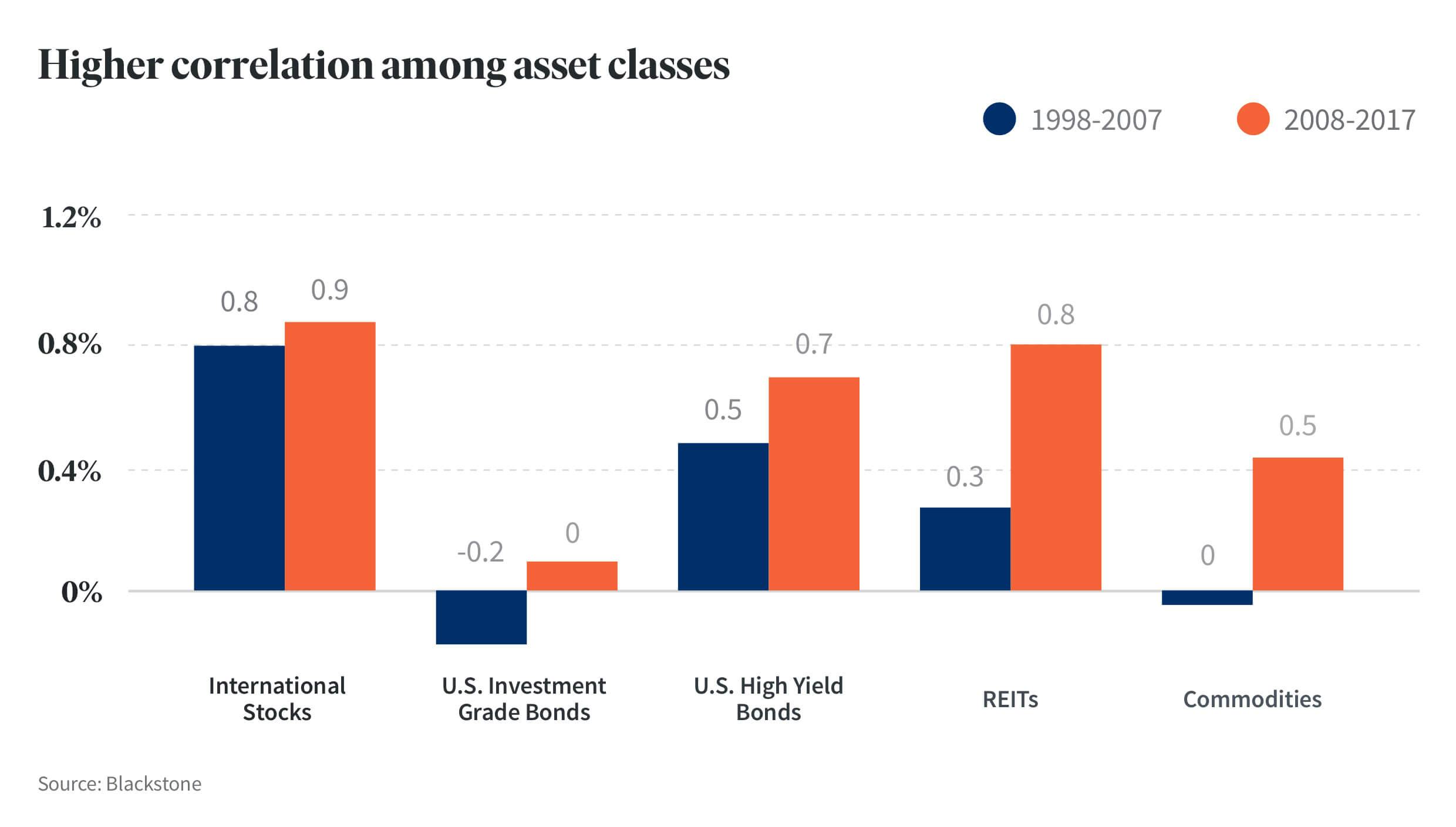 Along with correlation, volatility has also risen. Between 1950 and 1999, there were 81 daily movements of 3% or more in the S&P 500. Between 2000 and 2018, there were 120 daily movements of 3% or more. That's a difference of 1.6 movements annually on average between 1950 and 1999 and 6.3 movements annually on average between 2000 and 2018.
The combination of declining public investment options and the ubiquity of index investments has raised volatility and correlation among publicly traded investments on a market-wide scale. Therefore, if you're only invested in publicly traded investments, all of your investments are correlated at a minimum at the market level.
The Market Shortfall of the Public Market
Markets can be categorized across many lines. They can be broken down by function, issue, or otherwise. While these categorizations are important, the most fundamental market differentiation is likely the distinction between public and private markets. Stocks, bonds, commodities, and other securities that are traded on public exchanges are publicly traded investments.
The chief difference between the public and private markets are the buying and selling dynamics. The public market is considered highly efficient with prices set by the market. Information concerning each investment is theoretically public and widely circulated, which makes it quite difficult for one investor to have more information on the historical or projected performance of any given investment than another. And transaction costs are relatively low, which facilitates high-volume trading.
Each of these characteristics makes it very easy to buy and sell a publicly traded investment quickly, which makes the market capable of offering high liquidity. In fact, more than five billion shares are traded every trading day on stock exchanges in the US.
At the market level, a major source of the volatility in the public market is due to its efficiency. High efficiency enables high trade volume, which allows for volatility within the market. When this volatility is combined with correlation of investments, then the public market's power to diversify and stabilize a portfolio is diminished.
An Example of Volatility and Correlation
Individual public investments have their own advantages and disadvantages, which can vary by asset class, sector, industry, company, and more. As discussed, when investments are correlated, they share some or all of the same set of risks. So, if one investment experiences a loss, then a correlated investment is also at risk of loss. Several publicly traded asset classes have experienced increased correlation, as mentioned above, which means that events that affect one asset class can have correlative effects on others. And all public investments share the same market-wide risks.
For example, if there is an increase in oil prices, both airline companies and grocery companies share a risk of loss of profit due to the fact that they will likely experience an increase in transportation costs. This may cause stock prices to drop for each stock. Even though these companies are quite different, belonging to different industries, they share some of the same risks because they both rely on some of the same fundamental inputs, including oil. If you own investments in both companies, both of those investments share a risk of being negatively affected in this scenario.
While this example of correlative transportation costs is more obvious than others, there are many expected and unexpected correlations among investments. As the chart above demonstrates, correlation between publicly traded REITs and commodities has increased over the last decade as has international stocks and US high-yield bonds. While the connections between these asset classes are less straightforward, they're nonetheless present in the market.
Despite the upsides of the public market, a portfolio composed solely of publicly traded investments is likely more correlated than an investor may realize due to shared market-wide risk and correlation.
Why the Private Market is Different
The private market operates differently than the public market due to several factors. These differences are important because they have the power to make public market investments and private market investments complementary for the purpose of diversifying risk and reducing correlation.
While the public market is highly efficient, private markets are highly inefficient. Private market real estate transactions generally come with higher costs, and with fewer prospective buyers and sellers participating. Not all information is publicly available or shared across parties, and prices are negotiated rather than set by the market.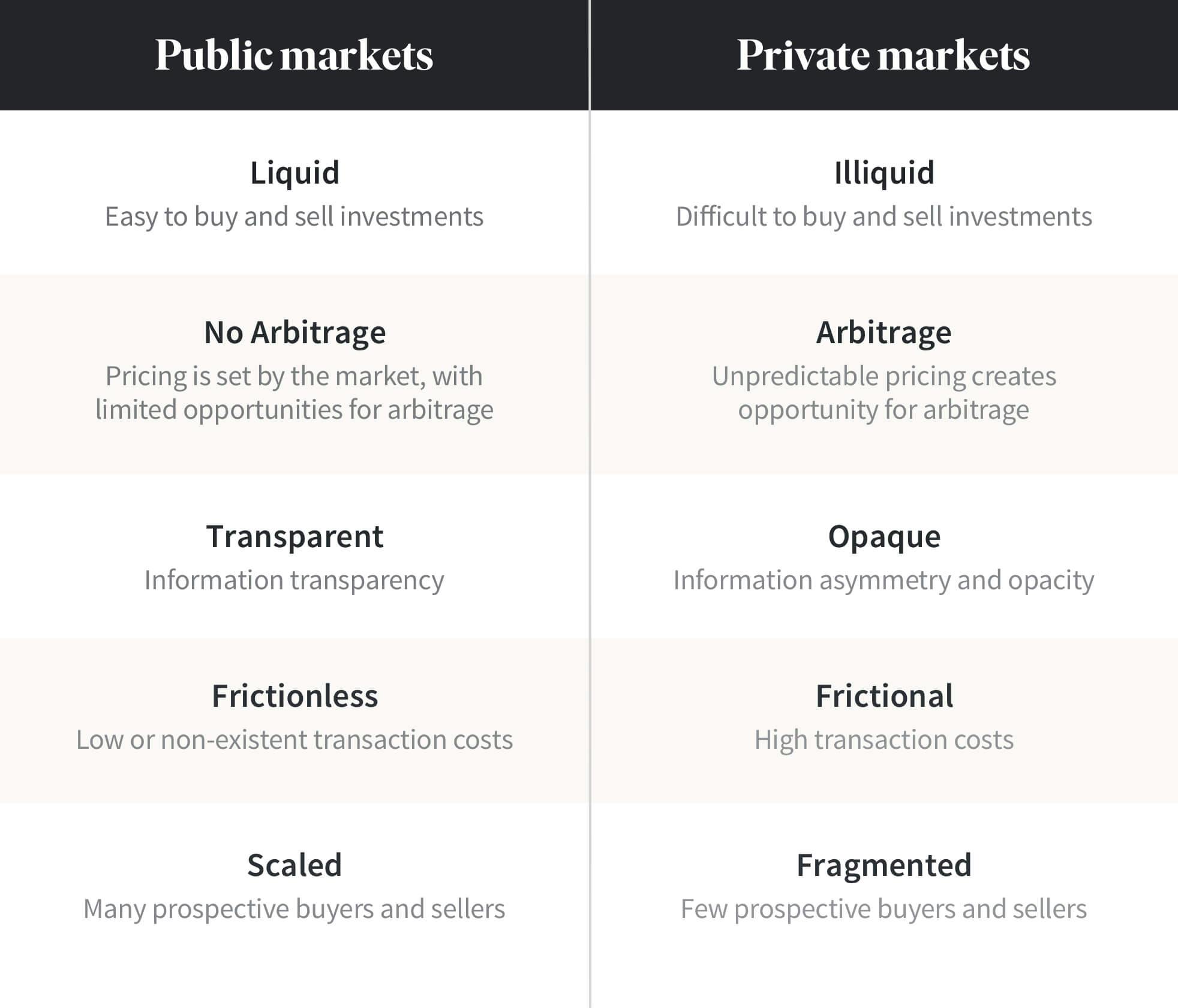 This market environment may seem unfavorable at first glance, but it's actually the one major reason for less correlation and volatility within the market – and in relation to the stock market. It also offers investors the potential to earn above-market returns in a way that's not possible in an efficient market like the stock market.
Because private market investments are traded at a far lower frequency, there are far fewer changes to their real values. Therefore, daily changes in value are generally smaller and fewer in comparison with publicly traded investments.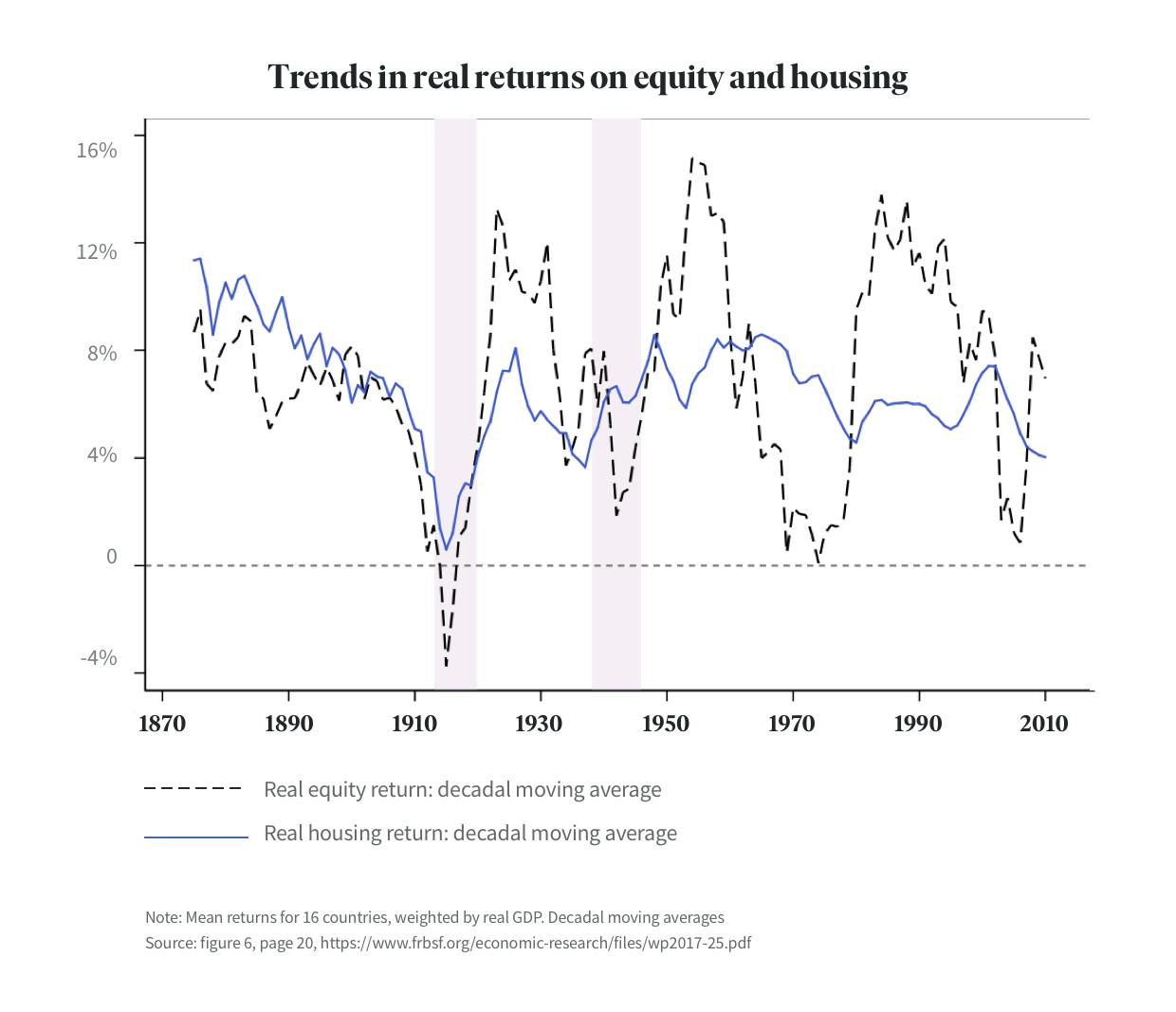 And real estate values are unlikely to change with daily fluctuations in the stock market, because their values are driven by other factors. Elements that impact the entire financial system, such as a recession or war, may impact both markets, but it's highly unlikely that the value changes of one market will affect the other.
With lower trade volume, private market real estate is more illiquid than publicly traded investments. This illiquidity helps to prevent volatility in real estate values, but it also means that real estate investments are best-suited for long-term investors who are able to hold an investment for several years.
Systematic Risks in the Private Market
Each market has unsystematic risks and they are different between the private and public markets, which helps make their investments complementary for the purpose of diversification. But it's important to note that some investments, including private market real estate, can help diversify against some systematic risks – which is risk built into the system – as well.
For instance, a rise in inflation would likely cause many asset classes to rise in price, making it more expensive to earn the same return potential. Even though the value of the asset would increase, it would mean that any earning potential would become more expensive, as reflected in the rise of the price-to-earnings ratios.
While the price of an investment rises to keep pace with inflation, some assets, known as hard assets can outpace inflation. Hard assets are well suited to hedge inflation because they hold intrinsic value due to the fact that they're naturally limited in supply. This intrinsic value gives a hard asset its ability to keep pace with – or exceed increases in inflation. Real estate is one of these few unique asset classes that can hedge inflation effectively.
As land becomes scarcer, especially in high-demand areas, its value appreciates. Real estate also holds the unique ability to capture the value of its scarcity through both appreciation and income, because both can rise with demand.
An increase in inflation is just one example of an event that would likely cause volatility throughout most, if not all publicly traded investments. A forecasted or real increase in the federal interest rate increase would also cause many asset classes to decline in price. This is because a higher interest rate would make loans more expensive for both businesses and consumers, which would likely reduce spending from both.
However, a forecasted or real interest rate increase would likely have a limited impact on an investor's equity stake in a private market real estate investment (as long as any open loan on the property has a fixed interest rate). In fact, if the property does have an open loan, that asset could become more attractive, because it would offer an interest rate hedge over newly opened loans.
Private market real estate can't offer diversification against all systematic risks. Like other investments, it's subject to its own set of risks as well as those inherent to the entire financial system. But, unlike other asset classes, it offers useful ways to manage some systematic risks in a way that other investments can't.
Above-Market Return Potential
Also, this environment enables an investor to potentially "beat the market", or "earn alpha". In the private market, there's room for negotiation between the buyer and seller on the price of an asset. With fewer buyers and sellers participating in the market, and with information unequally shared, an investor may be able to use their knowledge to negotiate a purchase or sale price that yields an above-market return.
This isn't possible in the stock market. An investor who holds common stock in a publicly-traded company doesn't have the ability to earn outsized returns because they have more knowledge, resources, or skills than another common-stock holder. They can only buy or sell an investment at a price set by the market when they believe that there's an opportune moment.
Why Aim for Low Correlation and Volatility?
Portfolios containing investments with little or no correlation have much less risk of volatility and, ultimately, loss. By diversifying a portfolio properly across uncorrelated assets, an investor can take the least amount of risk necessary to earn their target return in the most stable way available.
If your portfolio holdings are spread across uncorrelated assets, the strong performance of one or more investments could mitigate losses in your portfolio when another asset underperforms. This is because uncorrelated assets are far less likely to lose value in tandem than correlated investments.
The 20% Rule
To achieve an effective level of diversification, it's important to invest across and within asset classes and markets. One of the leading diversification strategies that achieves meaningful diversification is the 20% rule. This strategy moves beyond exclusively investing in the public market and underscores the importance of investing 20% of a portfolio in private market investments, or alternative investments, for the purpose of diversification.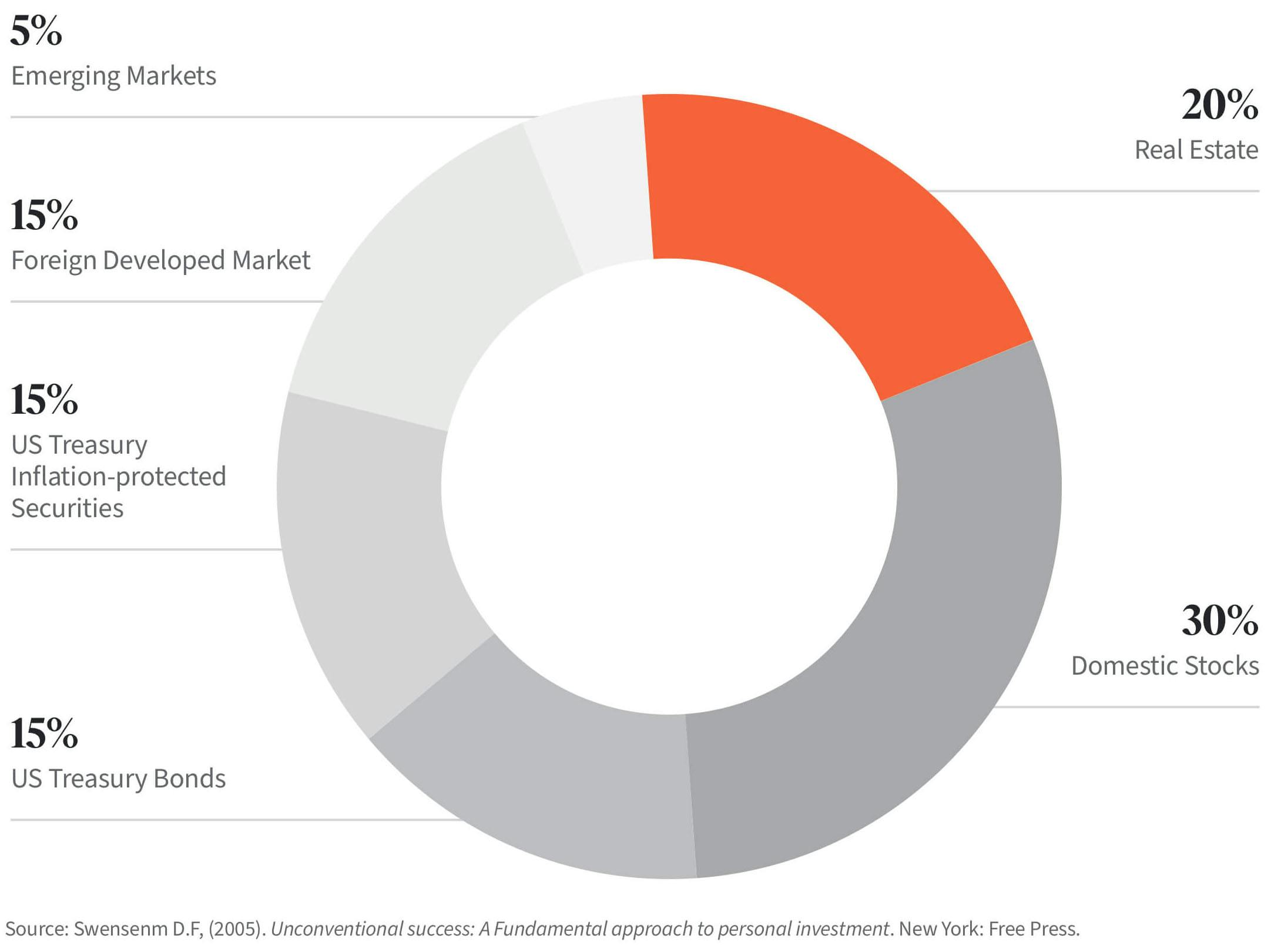 This is an example of an investment portfolio with 20% allocated to alternative investments, which is real estate in this case.
This strategy was developed by Chief Investment Officer of the Yale Endowment, David Swensen, for individual investors more than a decade ago due to the Yale Endowment's success of following a somewhat similar model, but at a much larger scale. Since then, this investment strategy has become more widely adopted, and investment providers, such as Baird, Blackrock, and Blackstone demonstrate how a 20% allocation to alternative investments can lower a portfolio's volatility and raise its return potential in comparison to a portfolio comprising only publicly traded investments.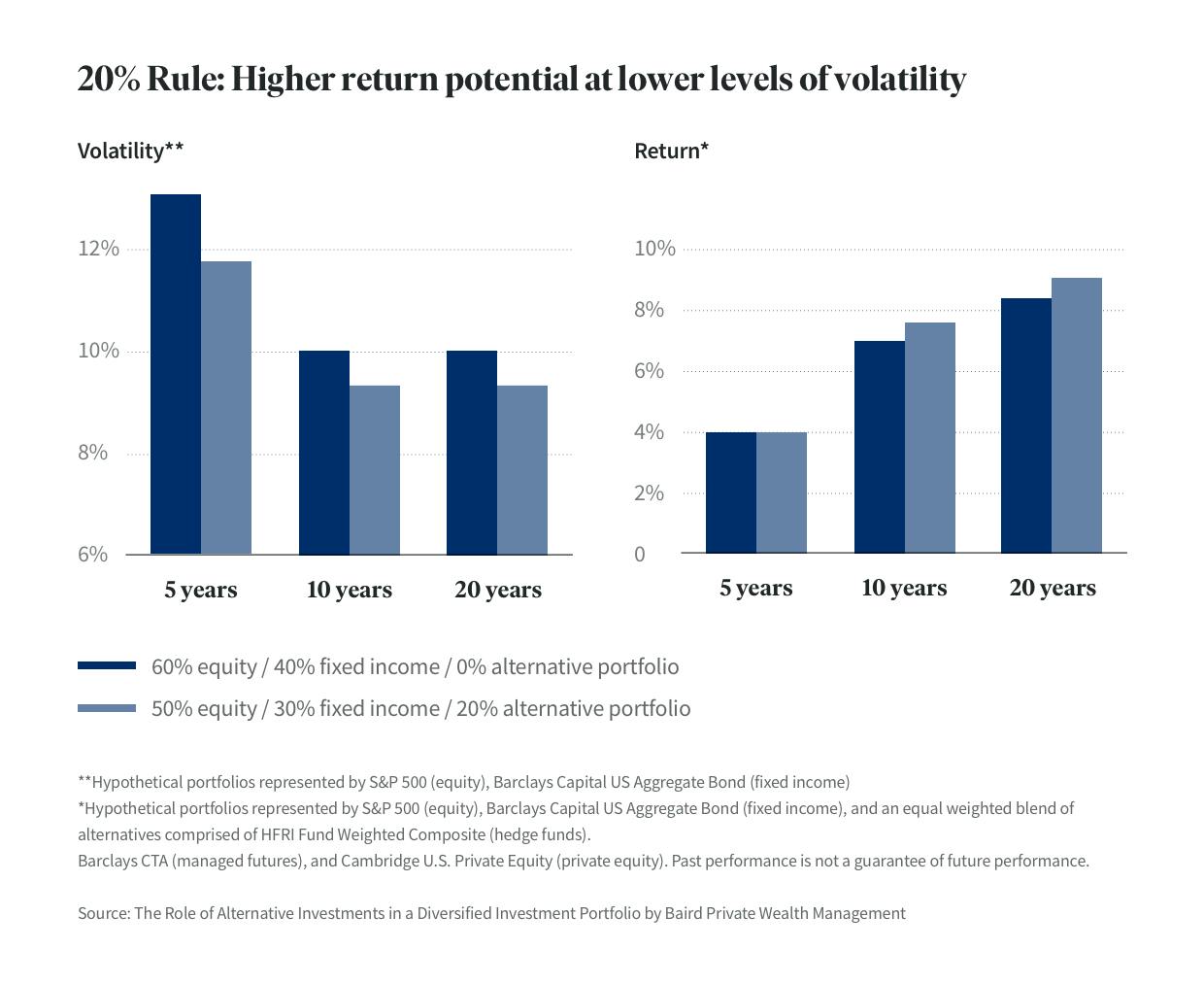 Take the Next Step
While many large, institutional investors already invest in alternative asset classes, many individual investors still allocate little or none of their portfolios to alternative investments. On average, pensions invest 30% of their portfolios to alternative investments, and endowments invest 52%, while individual investors allocate only 5% of their portfolios to this crucial asset class. If you're like most individual investors who are lacking critical exposure to alternative investments in the private market – and the diversification that comes with them – there are now more investment options than there were less than a decade ago for investors of all sizes.
Fundrise is the first investment platform to create a simple way for anyone to access institutional-quality private real estate, along with its historically consistent earning potential and diversification power.
Fundrise not only offers unprecedented access to private market real estate, but also diversification within the asset class. With Fundrise, you can access investment portfolios containing dozens of real estate assets diversified across commercial and residential property types, debt and equity investment structures, as well as geographically across the US.
We built Fundrise to make diversifying into private market real estate faster and easier. Learn how Fundrise can help you diversify your portfolio today.
Article by By Claire Rohlfs, Why Real Estate is Less Volatile than the Stock Market | Fundrise